Sunday, September 20, 2009
Posted by

G-`FerRo
at 20:09
No comments:
Links to this post


Sunday, September 13, 2009
Posted by

G-`FerRo
at 08:39
No comments:
Links to this post


Thursday, September 03, 2009
Another everyday observation.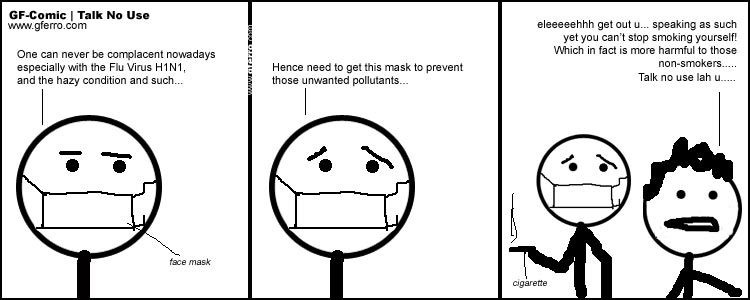 *Click image for a larger version.


** Feel free to copy and paste, for non-commercial purposes only, but please do not alter in it anyway.
In the midst of the Flu A H1N1, everybody seems to be taken some precautions, by getting some sanitisers, face mask and such, so one day during lunch, some time before the fasting month, saw this guy wearing face mask, but ironically, there is a lit cigarette on his hand!!
And despite, the Non-Smoking in public areas By-Law, still saw many patrons puffing those toxic fume, especially in those al-fresco dining, and the fumes is equally harmful to those non-smokers sitting next table!
So Please, look at the man in the mirror.
Posted by

G-`FerRo
at 06:00
No comments:
Links to this post