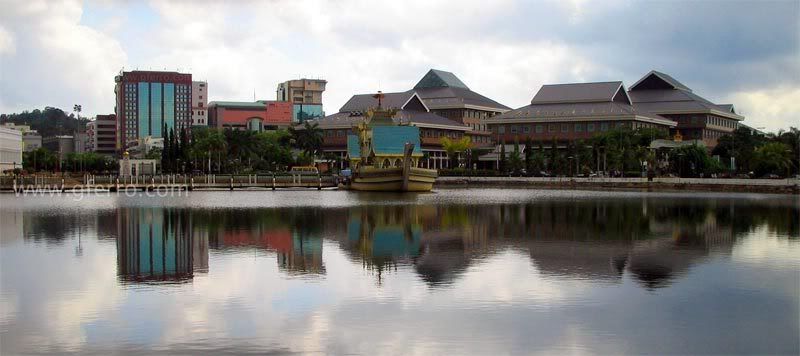 Bandar Seri Begawan, recently during the celebration of HM the Sultan 60th Birthday, has undergone quite a major facelift, many street furnitures were replace to new elegance design, the lampost replaced to a new classic design, perspex-type awning were attached to the walkway, parking along the street of Jalan Sultan were abolished, making way to new walkway and introducing Al-Fresco dining style, yeaaa.. bring all those cafe thingy ... hmmm.. I can just smell those aromatic freshly grounded and brewed coffee beans.
The above photo was taken at the compound of Masjid Omar Ali Saifuddien, the blue-red tall building on the left side is the BIBD HQ, and the very right is the Sultan Hassanal Bolkiah Foundation Complex or widely known in Brunei as the Yayasan.

The area where Yayasan now situated is actually a reclaimed land area,i.e. used to be the area of hundreds of stilt-houses on the water (Kampung Ayer), and one of the villages was called Kampung Sultan Lama, which were destroyed during a huge fire which made thousands of people homeless, the affected area was part of the huge Mukim Sungai Kedayan.

I hope, instead of naming those Yayasan building block with typical name such as Block A or Block B etc, isn't it going to be nice if those block would be called Block Sultan Lama or Block Sungai Kedayan etc, then perhaps on the wall or even a permanent sign can be erected with images of those good 'ol days with some stories so that tourists especially the future generations can benefits from it.

I still can recalled during those time, (in the event of any fire mishaps) people will try to save their lives and belongings to the nearest "dry land", which during that time were the custom wharf and the asphalt area surrounding the Masjid Omar Ali Saifuddien Lagoon area. Gas tanks thrown and submersed into the river flowing beneath the houses, for fear that it might explode, valuables like jewelleries, furnitures, TV, VCR (no VCD nor DVD during that time) would then be safeguarded where ever possible, and yet during this chaotic hour, some unsensitive people will "help" to carry those stuff and will never return it to their rightful owner, ssheessh kebab, taking advantage of others misery, despite hearing the repeatative (sp.?) calls of prayer from the mosque's loudspeaker.

On the other hand, during a typical normal days, I still remember during those "kiddy years" in Kampung Ayer, where we used to walk, run, cycle along the narrow stilt walkway in Kampung Ayer, flying kites, doing sommersault in the river, "rummaging" thru the maze of walkway without any shoes nor slippers, waving and smiling when ever we see flock of tourists along the way, and at times wonders why non-kampung ayer people find it difficult to walk on the wooden-plank walkways, when we can even "dance" on it, but now as time move on, I now understand why...