Mercedes has confirmed the buy-in of Brawn GP, hence for F1 2010 Mercedes will have its own team, yet, Mercedes has agreed to supply engine for McLaren til 2015.
So now the questions are, will Button be paired with Hamilton in the McLaren, hence the all-British team, and Mercedes GP might be having Nico Rosberg as one of their driver.
But what will happen to Kimi?
Some questions need to be answered soon.
From the earlier image of Mercedes GP, it looks like they might retained their silver look livery, whereas McLaren might be back to their orange livery, but all of these yet to be confirmed.
F1 2010, seems to be an interesting one, with Korea as a new add-on track, and the Montreal, Canada is back on the calendar.
Who cares about Ferarri! By mid-season Alonso and Massa might have their rift, just like Hamilton & Alonso, when they were together at McLaren.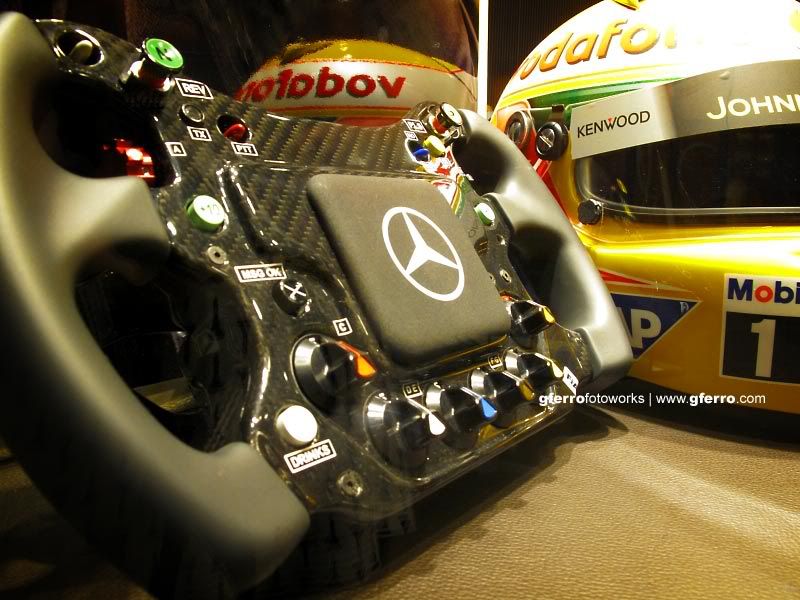 Lewis Hamilton's helmet, side by side with the McLaren-Mercedes F1 steering wheel. If you look carefully on the bottom left of the steering wheel, there is a white button for drink, yeap, they do "drink" and drive, or drink and race, rather!