... AAAAARRGGHHHHH!!!!! .. I dunno what's happening here... is there something amiss ..?
... is it really a grand sale..?? .. or even close to a sale ..? .. sale banar kah ah ... ? .. do you all think that there's really a sale... or perhaps.. just because of some or few unconsiderate-just-wanna-PUNK'D-the-public-taukeh .. thus affect the whole industry ...?
... I bet .. everyone of you have heard people saying that ..
.." .... apa ni .. time sale mahal tia pulang ... andang dinaikannya harga ..." .. (.... the price's even higher during sale's period ..) ...
.. or something in the line of that ... it does not matter whether it is sale or not ... as the price does not make a difference ... instead .. some of them are getting higher ....
.. but don't get me wrong ... I'm not saying all sale is not genuine ... some DO gives good price during the Grand Sale .... in fact a much better buy ....
... once .. before Sale ... I wanted to get this kain ... which cost about $6.80/m .. so .. since the sale is just around the corner.. I thought .. I'd just wait for the sale ...
... so .. came the Sale .... hmm.. no surprise .. what does the price tag said ... Reduced from $8.50/m to $6.80/m ... what the ...????
... eh sadang luan jua deh kan ngular orang ani ...
.. there are loads of example .... but I just wanna share this one ...
.. I bought a songkok ... before sale ... for $10 ... unfortunately ... the songkok was a bit damage due to exposure from the rain whilst attending a function .... so ... during the sale period ... I wanted to get the same exact songkok ..... from the same shop ..... and guess how much was the price ...... yeaaaaap ..... $10!!! ..... if u want proof ... just look at the photo below ...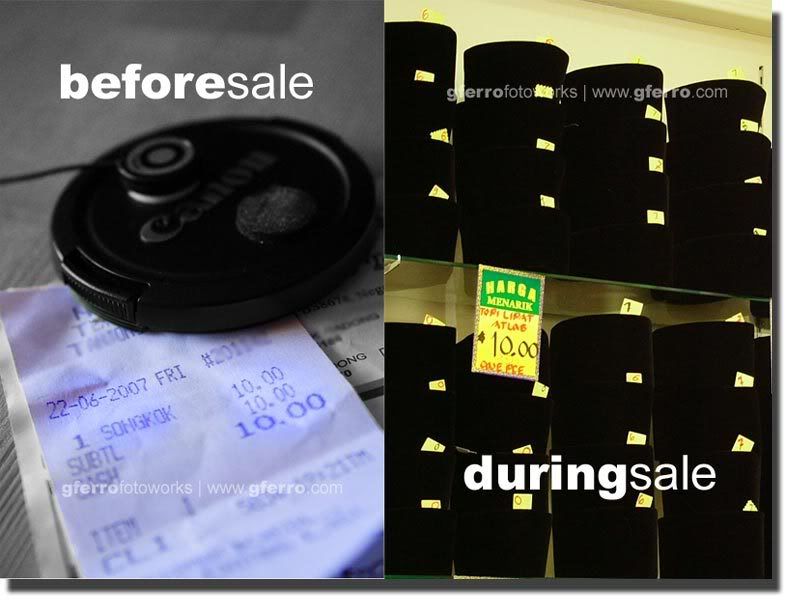 ... hmmm.... same price before sale ... and during sale ...!!! ... eh sadang luan deh ... napa kan ni ... kan mengaburkan mata orang ramai ani saja ...
... ani baru satu kedai ... kedai lain .. ada jua sama cemani ... jangan tah kan eksen .... sadang luan ...
.... mana tah kan orang kitani inda kan pecaya .... mun cani ah .. baik tah jangan tah kan sale bah .... sadang-sadang jua kan ngambil untung ani ....
.. cana tah negera kan maju ni ... mun udah cani ... eyatah kan membari orang kitani membali di luar negeri ni .. so sapa tah kan di salah kan ni ...?? .. bukan nya salah bapa mama tu lai ....
Hadis riwayat
Hakim bin Hizam ra.:
Dari Nabi saw. beliau bersabda: Penjual dan pembeli memiliki hak pilih selama belum berpisah. Apabila mereka jujur dan mau menerangkan (keadaan barang), mereka akan mendapat berkah dalam jual beli mereka. Dan jika mereka bohong dan menutupi (cacat barang), akan dihapuskan keberkahan jual beli mereka


Hadis riwayat
Ibnu Umar ra.:
Seorang lelaki melaporkan kepada Rasulullah saw. bahwa ia tertipu dalam jual beli. Maka Rasulullah saw. bersabda: Katakanlah kepada orang yang kamu ajak berjual-beli: Tidak boleh menipu! Sejak itu jika ia bertransaksi jual beli, ia berkata: Tidak boleh menipu!



.. wallahuakalam bisawaf ....