... another quick one .. continuation from the previous post ....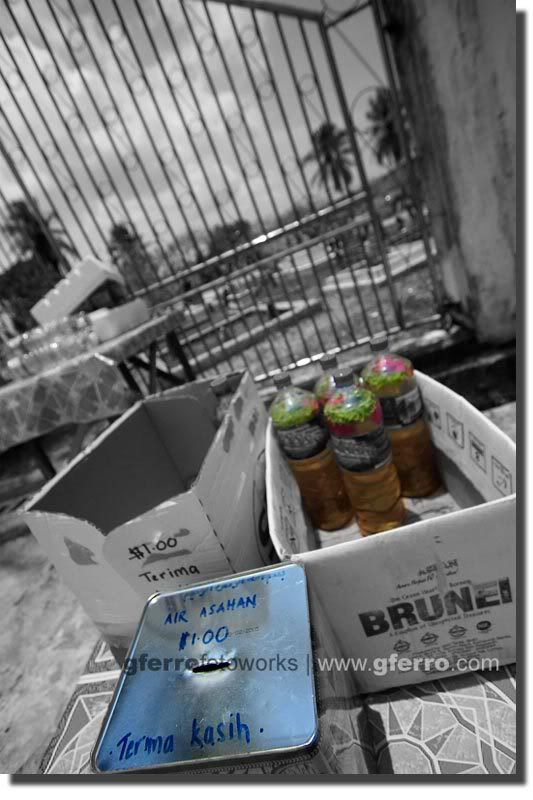 ... a typical scene at the local grave ....


Sebagai Renungan Bersama...

Imam asy-Syafi`i meriwayatkan daripada Ibraahiim bin Muhammad daripada Ja'far bin Muhammad daripada ayahandanya

bahawasanya Junjungan Nabi s.a.w. telah menyiram (air) atas kubur anakanda baginda Ibrahim dan meletakkan atasnya batu-batu kerikil

.


Berikut petikan daripada Kertaskerja Mufti Negeri Melaka (Datuk Wira Hj. Rashid Redza b. Hj. Md. Saleh)

Sunat meletakkan pelepah daun atau bunga yang masih hijau di atas kubur iaitu sebagai ikutan daripada perbuatan Nabi Sallallahu 'alaihi wasallam.

Diharuskan membawa dan menabur bunga secara sederhana dan tidak membazir. Harus menjirus kubur dengan air bunga- bungaan jika dia berupaya dan bermaksud supaya para malaikat hadir kerana malaikat sangat suka kepada bau-bauan yang harum lagi bagus.

Haram menyerupai orang yahudi dan nasrani yang membawa kalungan atau jambangan bunga dan meletakkannya di sisi pusara meraka.



Dan menurut
Al-Fikrah
oleh Dato' Seri Haji Harussani Haji Zakari
a
(Mufti Kerajaan Negeri Perak)


Binaan atas setiap kubur di tanah perkuburan Islam juga ditegah sama sekali seperti binaan simen konkrit kecuali jika mayat itu ditanam atas tanah kubur milik persendirian yang telah dikhususkan oleh keluarga untuk menanam mayat keluarga mereka sahaja.


Ada orang bertanya kepada saya, apakah ziarah kubur hanya lebih afdal dilakukan pada Hari Raya Aidilfitri atau Hari Raya Aidiladha sahaja. Saya kata, orang Islam sebenarnya digalakkan menziarahi kubur sepanjang masa tanpa sekatan dan masa tertentu. Tetapi, apa yang berlaku, setiap kali menjelang hari raya, orang Islam berduyun-duyun, lelaki perempuan pergi berziarah ke kubur sedangkan pada hari raya mereka disuruh bergembira dan digalakkan berziarah ke rumah saudara mara yang masih hidup bukannya beramai-ramai pergi ke tanah perkuburan.


Masyarakat Islam disuruh sepanjang masa menziarahi perkuburan. Kalau hendak

berziarah ke kubur pada hari raya, eloklah dibuat sebelah petang atau hari-hari berikutnya, bukannya pada hari raya pertama kerana pada satu syawal kita dikehendaki segera membayar fitrah dan dikehendaki berada di masjid atau surau untuk melakukan solat sunat hari raya.



Wallahuaklam bisawaf ...