Due to the photo intensive post, I'll break this post into parts.. 1st the Outer Courtyard ....


While in Seoul, we managed to get a closer look at the largest palace in Korea.

In 1392, Seoul (or Hanyang as it was then called) became the capital of Korea, and Gyeongbokgung Palace was completed in 1394 for Korea's ruling family.
It was the main and largest palace
of the Joseon Dynasty and one of the
Five Grand Palaces
built by the Joseon Dynasty.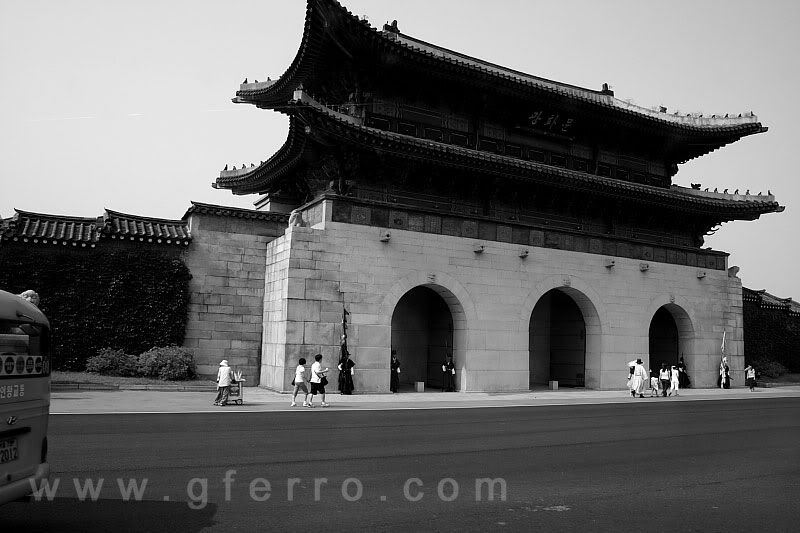 .. the Palace's Main gate ... btw this photo was actually taken from a moving vehicle i.e. from the coach ...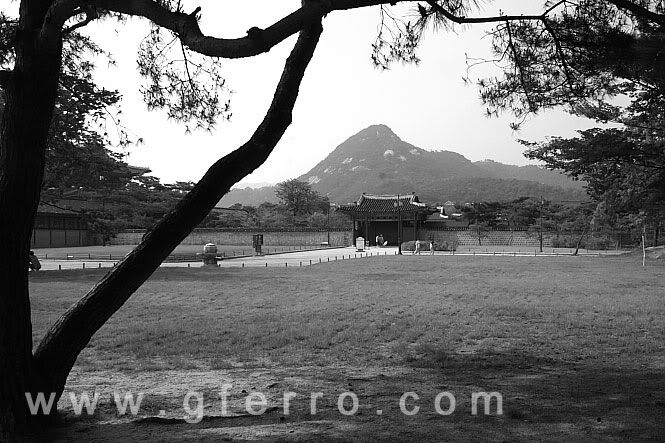 ... the palace has a very beautiful scenic mountainous view surrounding it ....
... The Palace .. straight ahead ...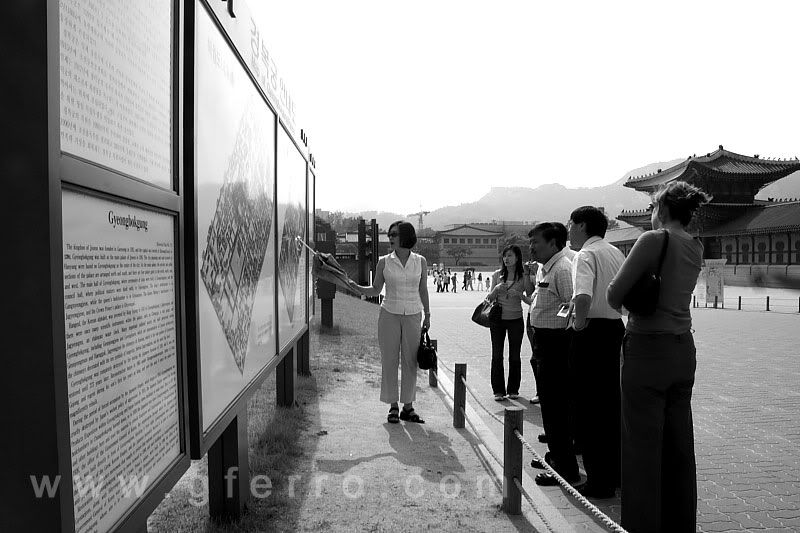 .. the guide explaining about the Palace ... and a short history briefing ...
... the 2nd Main Entrance...
... The Main Gate ... view from inside the palace's courtyard ...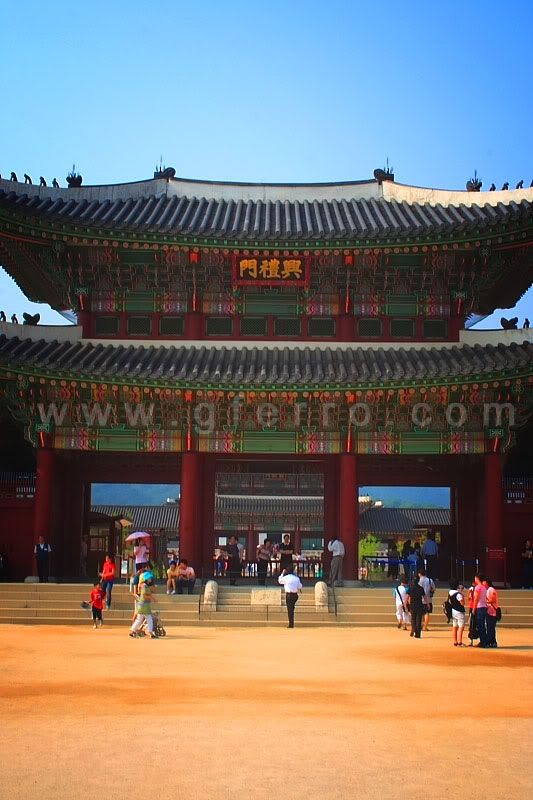 ... The 2nd Main Gate .. in colour...


We were quite fortunate during the visit, because it was the scheduled time for the changing of the guards... drums were played ... plus those traditional instruments... the changing of guards were done in the utmost traditional manners..... BTW we were not inform beforehand about this event, hence I was not ready with the appropriate lens, otherwise I'd change the lens earlier... nevertheless, I managed to captured these.....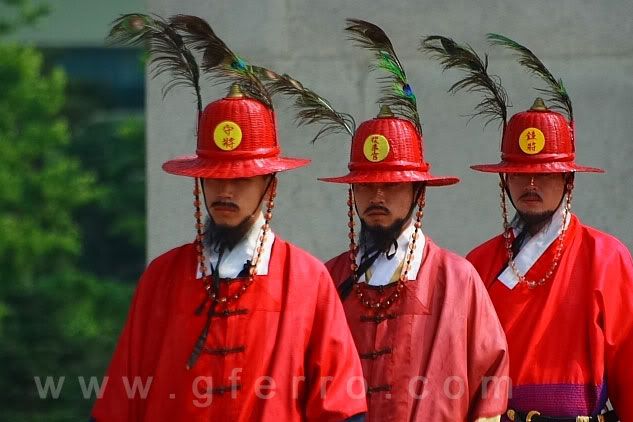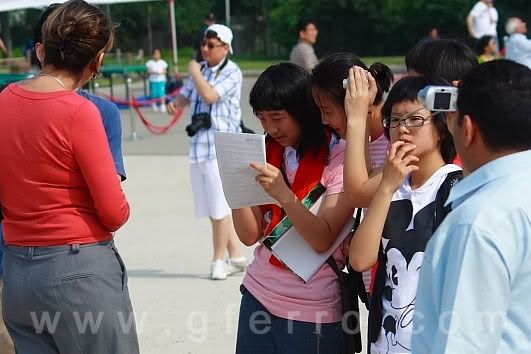 ... this we considered quite amusing ... these bunch of school kids were probably out for their school outing, when they approached our group for more "in-sights" of the palace, when even us ourselves are trying to understand the "insides" of the palace as well.... :)
BTW .... noticed that guy with the camera... I assumed he's a Nikonian ... eeer nope not that guy with the point-n-shoot camera in his hand .. it is the one with the camera hanging from his neck ... with that quite big lens ... ;)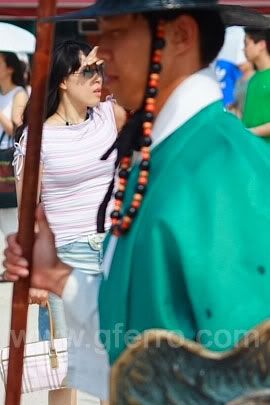 .. hmmm noticed that lady .. trying to look for someone I presume ...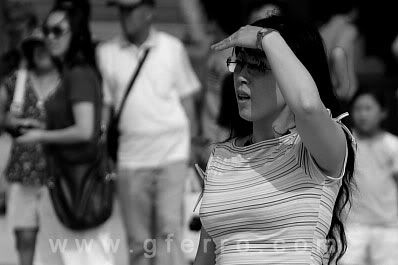 .. n yet .. still ... searching for it... still.... perhaps .....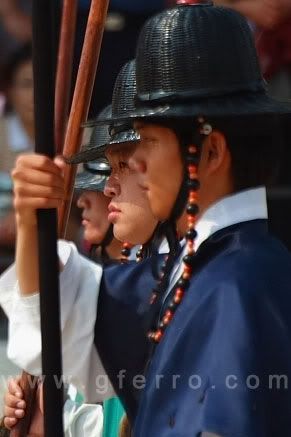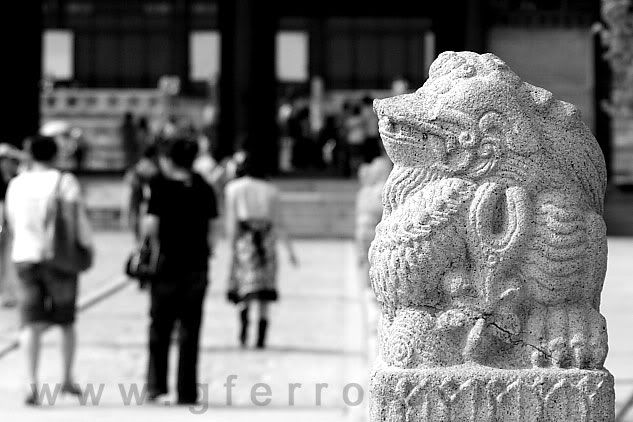 ... one of the many statues...
.. more interesting photos of the palace's "inside"... to be continued on the next part ... till then .... Anyong Haseyo ;)