... "close-up" of the village's jetty ... where the boat load/unload passengers and goods ....
.. modern jetties are now built from reinforced concrete .... although there are still wooden jetties being use ......
... the reinforced concrete do still get eroded due to the erosion of the steel bar by the salty water .....
... I think it is about time for those concern to build a properly computer design jetty .. which can withstand those salty water.... and other natural .. or man-made impacts ....
... a floating jetty should also be considered .. so that it is easier to unload/load .. regardless of the tide of the water .....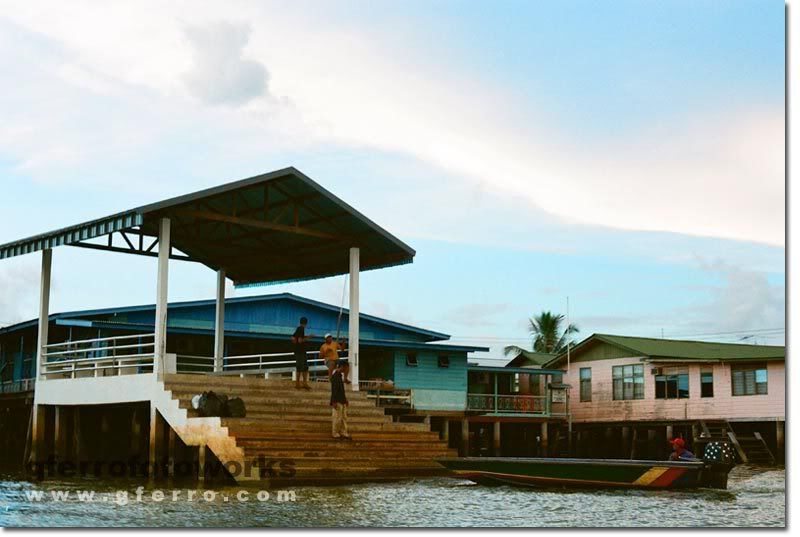 ... people bargaining for fare price before taking ride to their respectful destination.....

TIPS FOR NEWBIES TO THE WATER VILLAGE

1. Use an appropriate footwear, especially during climbing the steps of the jetty, as it is quite slippery, use high heels only if you think you are stunt acrobats from a circus, hence a flat rubber sole is recommended.

2. Bring small change, a short trip across the river, can be as little as from $0.50 per person, but if you give them $1, there will be no change, anyway, on the other hand, just give them the $1, share the wealth.

3. Bargain the fare first before taking the boat ride.

4. While walking along the wooden plank walkway, see not only the front, but watch your step literally, you would never know what you gonna step on ;)

5. Due to the "mysterical" and fascinating maze of walkway, becareful of where you are heading, you might end up at someone's kitchen!

6. Smile, and be polite, the villagers especially the children are very welcoming and friendly, and please do not be rude, as the people in the village are all related to one another in every other relationships i.e. uncles, aunties, granddad, cousins, 2nd cousins, 3rd cousins, sister's husband's cousins etc ....

7. Make sure your camera have enough film, batteries and memory cards etc, unless you wanna miss your chance of a lifetime ... leaving all those sweet, beautiful memories of Kampung Aying just in your heart ....... I Heart You ....