...whilst in Bangkok we managed to get to walk along this "tourist street" called Khao San Road ... lotsa happenings over there.... and Insa Dong was more or less the same... but with more variety of activities ..... when I saw these 3 friends ... I quickly snap them up ...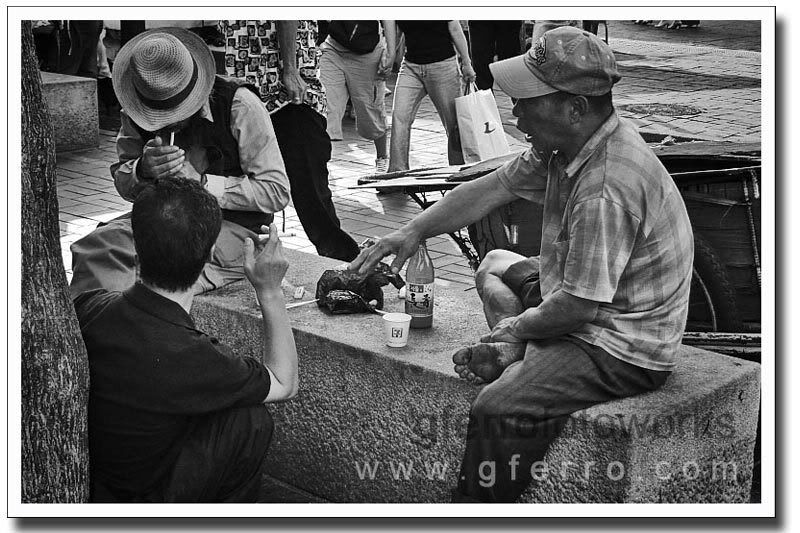 Guy With Black Shirt:
" ... cemana nyaman sigupku atu? ... baru ku order tu arah ebay ... murah jua .... bali 17 boxes free 26 batang .... free postage n handling lagi .. sama dapat free poster Timbalan Perdana Menteri Australia.... "
Guy With The Cowboy Hat:
.".... isshk...cana tah jua kan merasa ..... inda tia mau lighter ku ani ... ani kan gian udah kan besigup ....ada batu kah? ... kan ku geselkan membuat api ah ..."
Guy With The Cap:
" .. eleehh kamu ani ... udah ku quit smoking baru tah kan share ....pakal ganya ku beranti besigup udah ... baik jua ada laminit labuan ani .... kena kirimi dari Lawas ... mun inda ... inda kamu ampit sigup ah .... adang luan deh ... quit tah kamu deh ... save tah duit ah ... dapat jua membali mutuka sport .... "