In a very recent sojourn in Seoul, at the very first day, whilst one the way to Insadong, we encountered some sort of peaceful demonstration at one of the major street.
Not really sure what the commotion was all about, as all of the banners were in Korean.
At first, I thought that it was some sort of a celebration, as there was a band marching by, but there were banners everywhere.
The only word that I, and even you, could understand is "NO". So if anyone of you understand Korean, please translate it for us.
Obviously, all the security enforcement officers were everywhere, all over the place.
Many people were watching along the street. I just cannot imagine if there were an actual parade to celebrate a festival, even more and more people will definitely flood the area.
There were even children marching in the demonstration, also carrying a banner.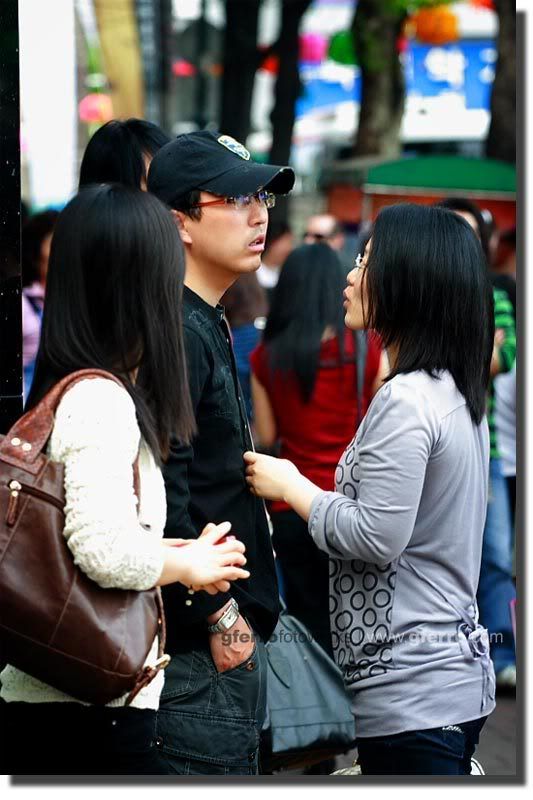 Thou there were a large crowd, but these youngster does not seems to care about the demonstration, the ladies are only interested in that young man, at first I thought he must be an artist, Rain perhaps? But no, I don't think so, perhaps he was too engrossed watching the demonstration that, the ladies is trying to get his attention off it.
On a different note:
Was reading the news regarding the Malay Regiments "Invading" Buckingham Palace.
Yeap, if anyone of you who are going to the UK, and just wanna capture those English guard in duty, with their afro looking hair, and red/black uniform, well, you are out of luck, instead you will find a Malay soldier, adorning the "Baju Melayu" with their local hat or Songkok, guarding Buckingham Palace, Windsor Castle and even St. James Palace for this month until next month!
I don't wanna spoilt the fun in this story, so to know more about this story, just search it on the net, bt don't worry, this a genuine news.