Safety hat is one of the must-wear gears when doing any major project, as part of the requirement from the Health & Safety Division.
Which reminded me of a real life story.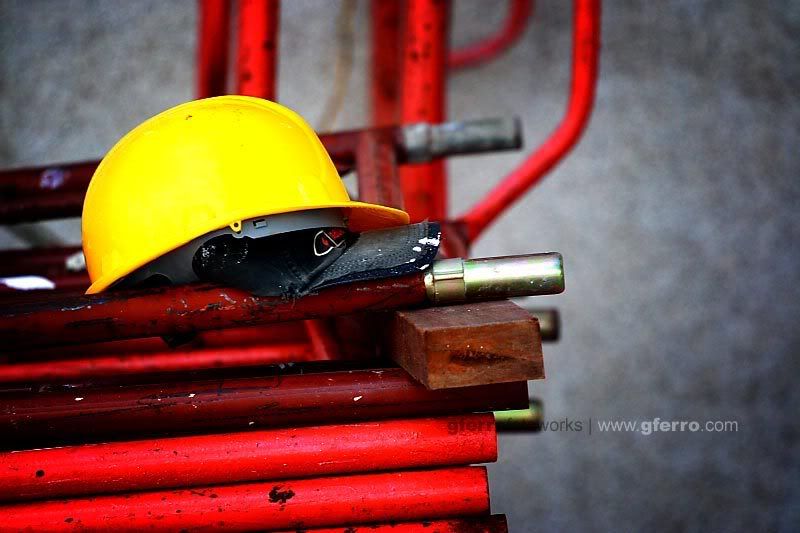 It was during my very early days working as an Engineer, and as a "fresh Engineer" I was very eager and looking forward for my first real-life site visit, (thou during uni life we did attended many site visits and even a week of Survey Camp and a week of Geology Camp), yet this is the real deal.
As part of the project in undertaking the Chartered Engineer status, one must be involved at least in one major project.
So few days before our site visit, my supervisor informed me to get prepare,including to have all the necessary safety gear.
Hence, soon after that, I went for a "shopping spree", got myself a new pair of steel-toe shoes with those heavy duty soles and obviously a safety helmet!
Whilst picking and deciding for the safety hat, which have many colours, so I said to myself, I'll just get the yellow one, since it is quite striking(so safety purpose meh it can be seen from thousand of meters!)
When the day of site visit came, proudly adorning my new gear, something seems amiss, something does not look right, it seems I was the odd one out, the rest of the colleague (I was the most junior at that time) was wearing a white safety helmet or blue but not yellow! The only yellows that I saw was worn by all the site workers!
Few minutes into the site, I was then approach by one of the seniors, he then whisper to me," Eh lain kali jangan u pakai safety hat kuning ani ah..."
".. eh napa nya... inda dapat kah ...?" I then asked
".. hehe .. bukannya apa ... arah kitani ani.. biasanya .. kuning ani .. kena pakai oleh kuli ganya.. kalau macam Engineer macam kitani.. biasanya makai Putih ... konpius orang karang .... "
" ... hahaha ... no wonder ....."
Well, that was the last day I wore that safety hat, and I don't know where it is now, malas tak ku ingau jua ... hahaha... something that I will remember forever ....
So guys, now you know, which hat is which. Some stuffs you really can't get it from school!